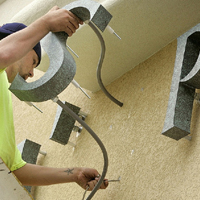 We Take Extra Care
combine our expert team of graphic designers, fabricators, and installers to create highly effective, quality signage.
Expert Design
We serve retail stores nationwide with a wide variety of interior signage. We offer total décor packages that include wall lettering and striping, product directories, check stand identifiers, menu boards, specialty department décor and more. We welcome the opportunity to work with you and/or your creative team.
Carik Sign Company creates signage solutions. We've designed and built signage for theatre marquees, corporate headquarters, retail, sports and professional facilities, and more.
Carik Sign Company's expert team of graphic designers, sign fabricators, and sign installers create highly effective, top quality signage. We offer a complete line of illuminated signs, as well as non-illuminated, exterior and interior signs.